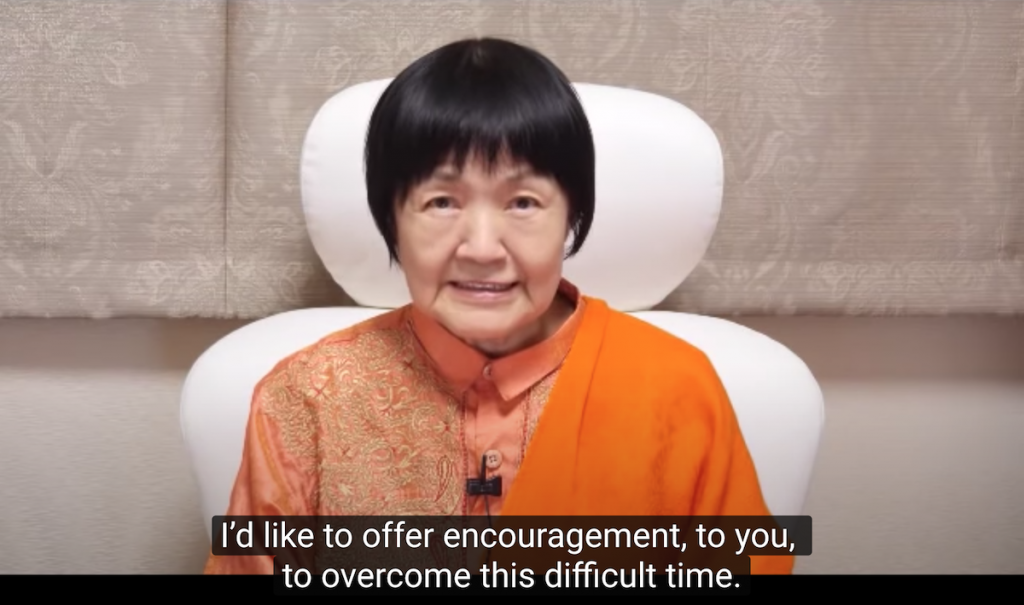 Yogmata gave us an urgent message to protect ourselves from COVID-19.
It is a simple method which we can easily practice at home.
Please watch the English closed-caption while receiving Yogmata's blessing through the screen.
If you feel good after practicing this method, please tell your family, friends and colleagues to share this method.
Part 1
https://youtu.be/1NWpXAls0HU
Part 2
https://youtu.be/x_hUbYv3wHg
New York, USA, March 4th, 2020- We regret to announce that the trip of Yogmata and Pilot Baba to New York this weekend is cancelled due to epidemic of coronavirus.
We apologize for the inconvenience this may cause.
Yogmata hopes to visit New York either in April or in May.
We look forward to seeing you soon.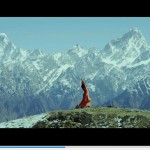 New York, USA, Oct 7th, 2019- We regret that Darshan, Kriya (meditation workshop) and Diksha (meditation initiation), scheduled between October 18th – 20th have been cancelled due to unforeseen circumstances.
We sincerely apologize, to those who made reservations, for any disappointment.
Instead, we will provide a film screening of the film "YOGMATA." The film "YOGMATA" was produced in Bollywood, India.
In this film, you will:
• Follow the path to enlightenment of a humble Japanese lady who now stands at the top of the 20 million sadhus in India.
• Watch her encounters with the Himalayan great saints residing in the Himalayan hinterlands.
• Discover what is supreme Samadhi
• Encounter a Babaji who has maintained his body for 2,000 years
• Receive the Himalayan saints' magnificent message to all humanity
Please come and encounter the never seen before world of the Himalayan saints.
And you will have an opportunity to contemplate the way you live.
Date and Time:
Saturday October 19th 11:00-13:00 (facilitated in Japanese)
Sunday October 20th 11:00-13:00 (facilitated in English)
Venue: Hilton Midtown New York
Fee: USD15-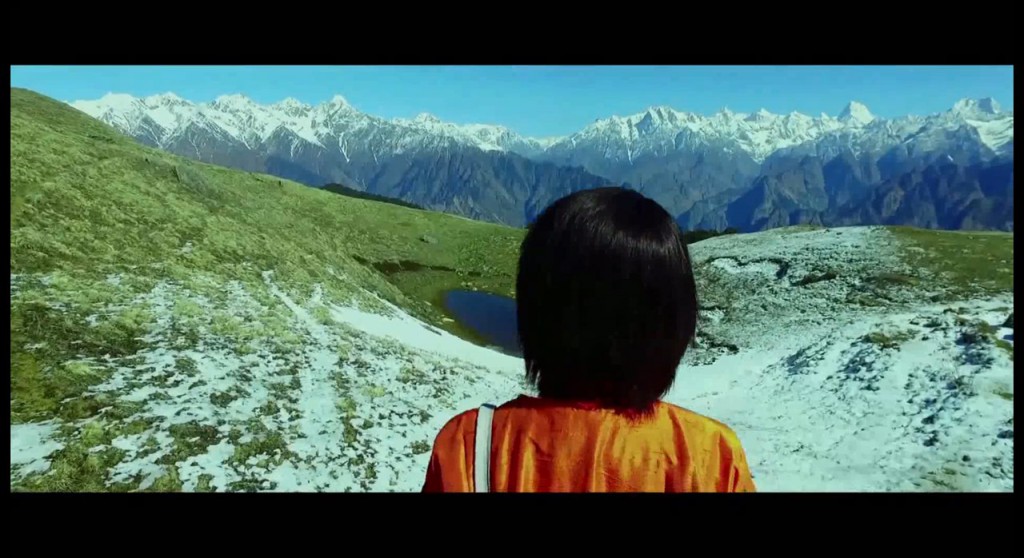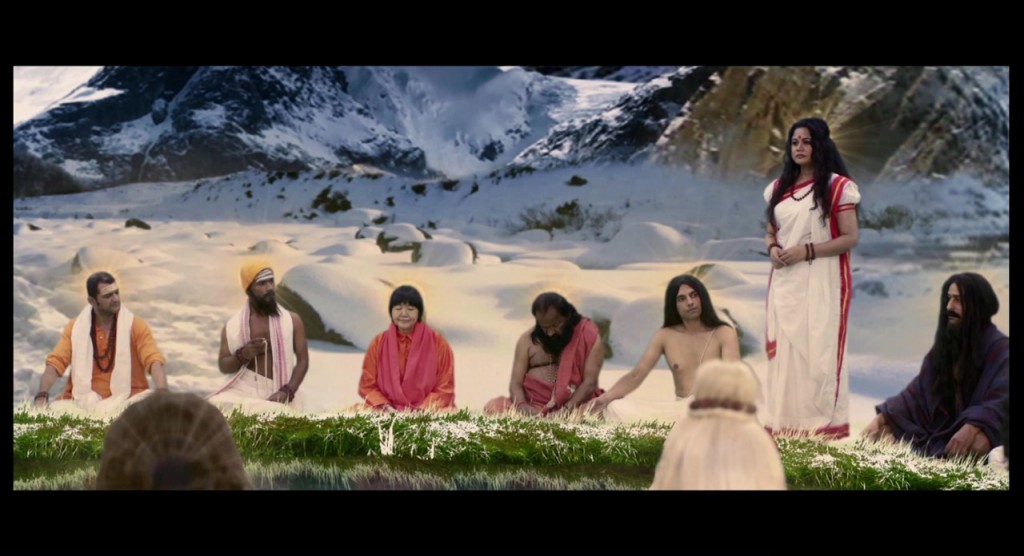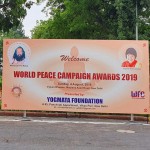 New Delhi, India, August 4 2019 – Yogmata, Keiko Aikawa and Pilot Babaji presented the World Peace Campaign Awards 2019. They are both devoted to this campaign which was established by Pilot Babaji with the support of Indira Gandhi – the first female Prime Minister of India.
These peace awards recognize people who have made a significant contribution to the promotion of peace. The awards are highly valued and promote world peace beyond philosophy, religion or other activities.
The awards ceremony is fully supported by the Government of India and this year was held in the Government's convention hall, Vigyan Bhavan. Attendees included congressmen, business leaders, press, celebrities, and representatives of Japanese companies in India. The ceremony was a huge success.
Yogmata, Keiko Aikawa is respected throughout India for achieving Samadhi, which is the ultimate state of yoga/meditation. She presented this ceremony as a compilation of her work toward world peace so far. In addition to Yogmata's appearance at the United Nations event, this ceremony also strongly contributes to the advancement of world peace along with enhancing the image of Japan an the friendship that exists between India and Japan.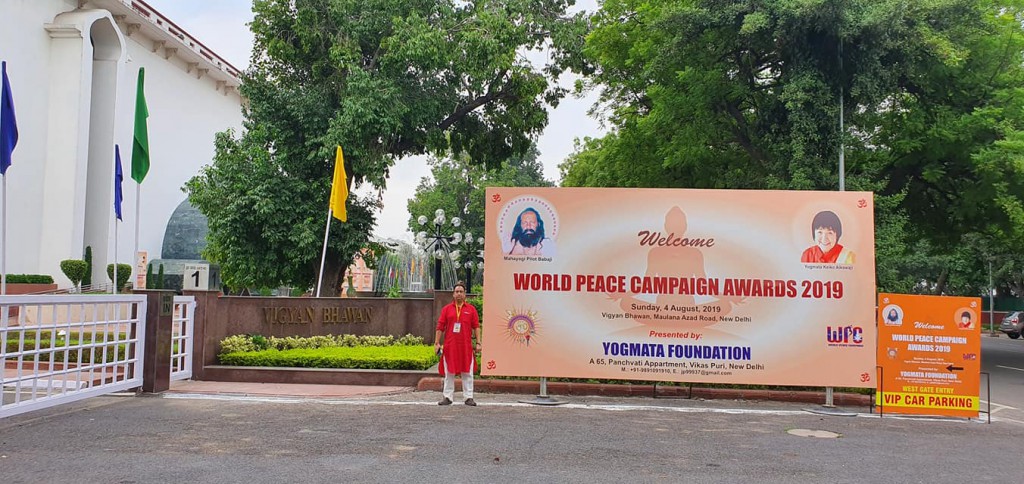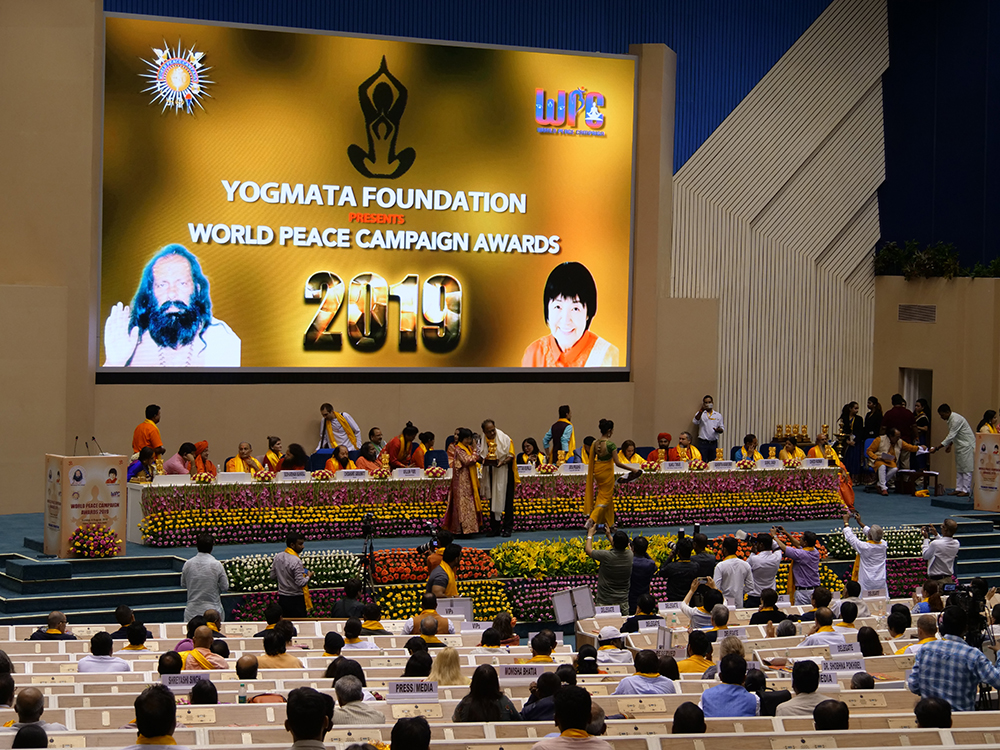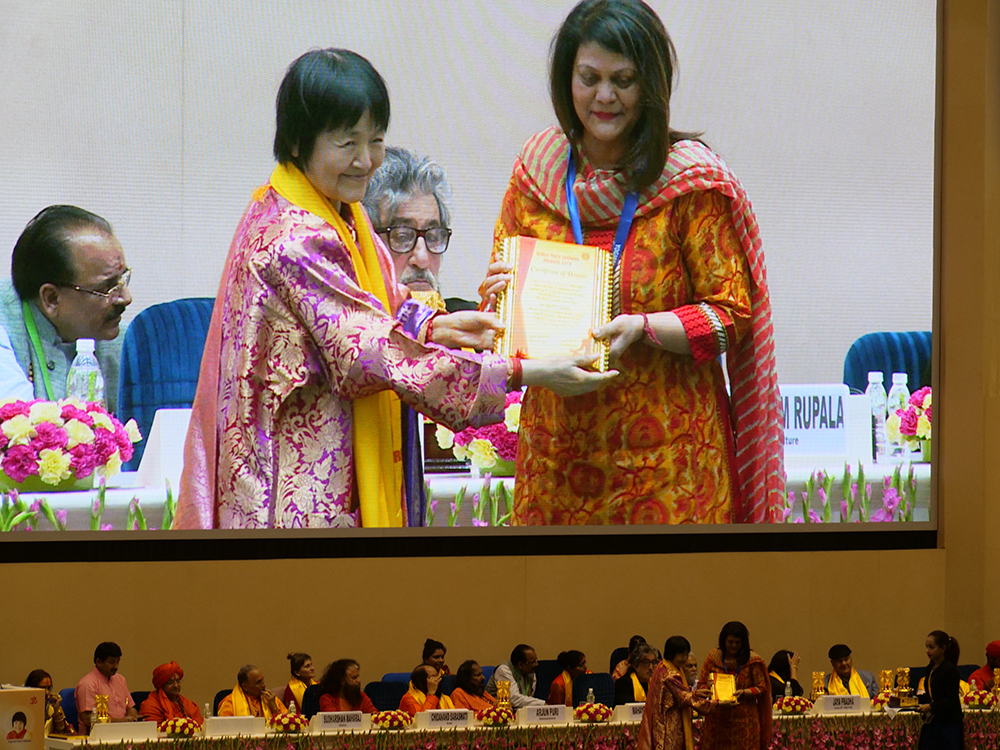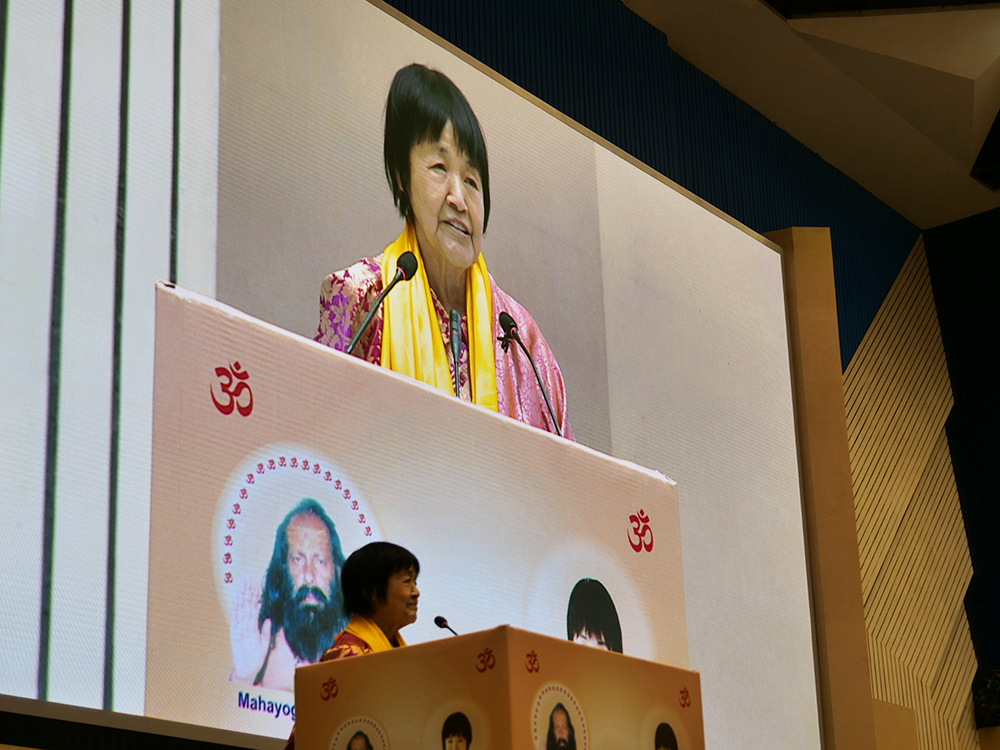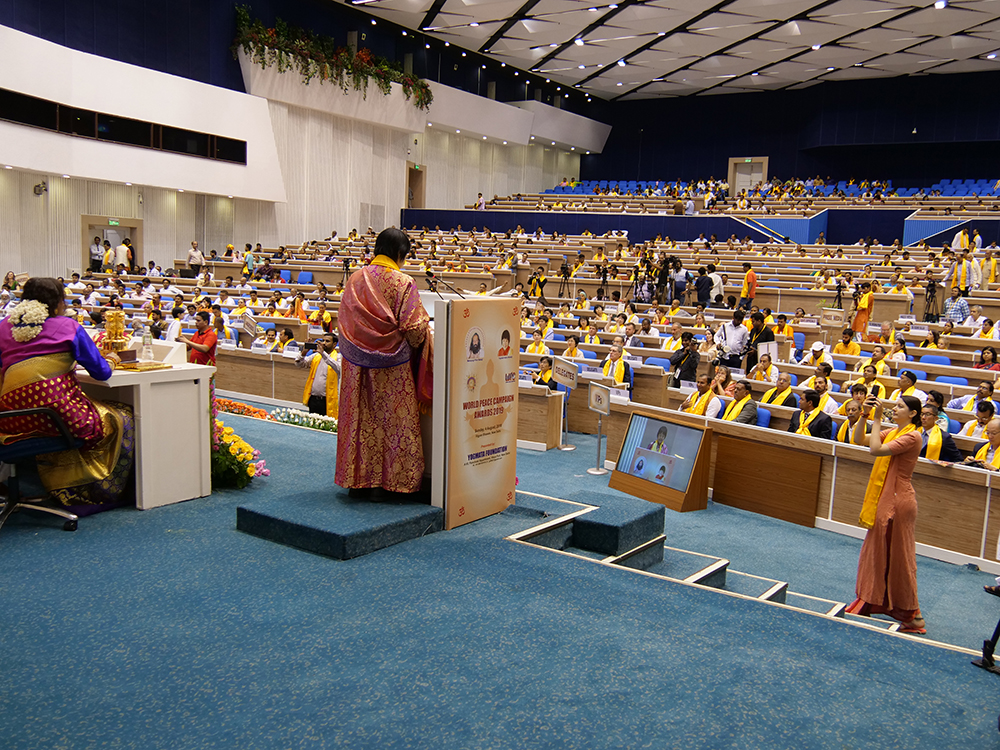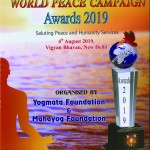 New Delhi, India, July 24th, 2019- Yogmata Foundation (representative: Yogmata Keiko Aikawa) and Mahayog Foundation (representative: Pilot Baba) will co-present the World Peace Campaign Awards 2019 at Vigyan Bhavan, New Delhi, receiving support from the Indian Government.
These awards are to recognize people who have contributed to promote peace, supported people in poverty to create beautiful and peaceful world.
President of India, many ministers, congressmen and business leaders will attend this event, and it represents people's strong interest in peace.
Yogmata has received a lot of spiritual abundance from India, where Buddha was born, so in return she has contributed to India.
She wishes to enhance the spiritual relationship between India and Japan and also promote the image of Japan.