Yogmata Keiko Aikawa, visiting India since early July to attend Indian Festivals, met on 7/13 with Dr. Mahesh Sharma, India's current Minister of Culture.
Dr. Sharma, having a profound knowledge of yoga himself, very much enjoyed the company of 2 great saints of Himalaya, Yogmata Keiko Aikawa and Pilot Babaji.
平和の祭典2017
World Peace Campaign in Tokyo
From Your Internal Peace to World Peace!
Yogmata Keiko Aikawa, a leading master of meditation who presented a message for world peace at the United Nation.
Pilot Baba, a highly regarded great saint from India.
This is a special occasion, when two of the Himalayan Great Saints in the world today, will join together, make speeches and pray for world peace with you.
You will discover your true hope: love and peace, will begin to spread out across the world.
・-・-・-・-・-・-・-・-・-・-・-・-・-・-・-・-・-・-・-・-
◆Date: Sunday 24th September 2017
1st part : 12:00~ Darshan with Great Himalayan Saints
2nd part: 14:30~ Meditation Workshop for Healing the World
14:30~16:30 WS1 Kriya
17:00~18:30 WS2 Kripa
◆Venue: Tokyo
Please inquire, or make a reservation, for further details.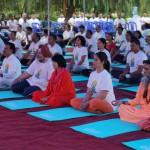 Kathmandu, Nepal, June 22nd, 2017- Yogmata was invited by the government of Nepal as a national guest to the event to celebrate the 3rd International Day of Yoga.
The event was held at the Indian Embassy in Kathmandu and nearly 600 persons participated in this event.
Yogmata gave a keynote speech and blessed the participants.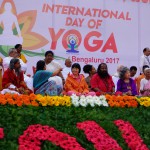 Bangalore, India, June 21th, 2017- Yogmata and Pilot Baba were invited to the event to celebrate the 3rd International Day of Yoga held at the Kanteerava Stadium in Bangalore.
The event was organized by the Health Department and Ayush in association with Shwasa Foundation and the number of participants was estimated more than 11,000.
Old yoga teachers Tao Porchon Lynch (98) from New York and 97-year old Amma Nannamal from Tamil Nadu were also present.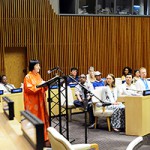 New York, USA, May 20th, 2017- International conference "CELEBRATE EARTH: SUSTAINABLE LIVING, MEDITATION AND YOGA" was held at the United Nations Headquarters on May 19 at the ECOSOC Chamber. The aim of the conference was to raise awareness worldwide of the many benefits of yoga as well as to consider about the earth and how human society should behave.
As a keynote speaker, Yogmata gave a speech and prayed for the earth, all people and the United Nations. At the end of the conference, Yogmata guided a special meditation and attendees were taken to another world.
We hope that more and more people make decision to protect the world and to protect themselves so that consciousness will protect the world.