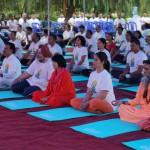 Kathmandu, Nepal, June 22nd, 2017- Yogmata was invited by the government of Nepal as a national guest to the event to celebrate the 3rd International Day of Yoga.
The event was held at the Indian Embassy in Kathmandu and nearly 600 persons participated in this event.
Yogmata gave a keynote speech and blessed the participants.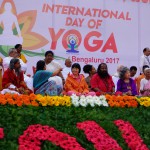 Bangalore, India, June 21th, 2017- Yogmata and Pilot Baba were invited to the event to celebrate the 3rd International Day of Yoga held at the Kanteerava Stadium in Bangalore.
The event was organized by the Health Department and Ayush in association with Shwasa Foundation and the number of participants was estimated more than 11,000.
Old yoga teachers Tao Porchon Lynch (98) from New York and 97-year old Amma Nannamal from Tamil Nadu were also present.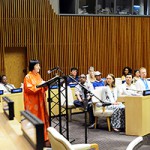 New York, USA, May 20th, 2017- International conference "CELEBRATE EARTH: SUSTAINABLE LIVING, MEDITATION AND YOGA" was held at the United Nations Headquarters on May 19 at the ECOSOC Chamber. The aim of the conference was to raise awareness worldwide of the many benefits of yoga as well as to consider about the earth and how human society should behave.
As a keynote speaker, Yogmata gave a speech and prayed for the earth, all people and the United Nations. At the end of the conference, Yogmata guided a special meditation and attendees were taken to another world.
We hope that more and more people make decision to protect the world and to protect themselves so that consciousness will protect the world.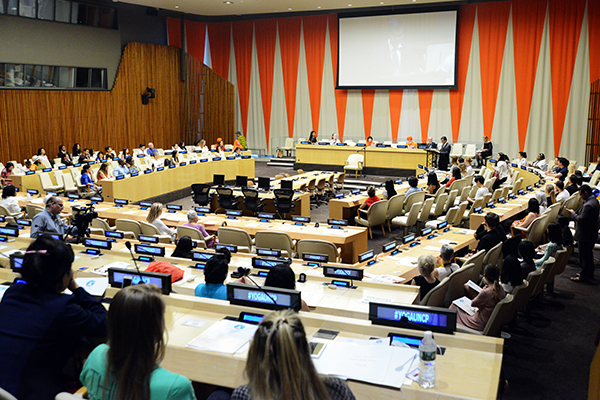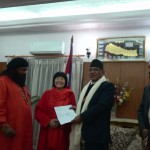 Katmandu, Nepal, March 24th, 2017- On 28th of Febryary, Yogmata and Pilot Baba visited Katmandu and met Nepalese Prime Minister Pushpa Kamal Dahal in order to donate for hospital construction.
Nepal is a country where the revered Himalayan Master and the guru of both masters, Hari Baba was born and lived for a long time.
We hope that their meeting contribute to the further development of cordial relationships between Nepal and Japan.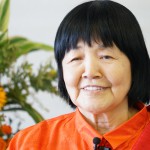 Yonezawa, Japan, March 12th, 2017- On 11th of March, 6 years on from the Great Tohoku Earthquake of 2011, Yogmata Keiko Aikawa presented a charity lecture in Yonezawa, Tohoku and approximately 200 people attended from all over the Tohoku region.
The lecture started with an opening speech by the Mayor of Yonezawa and closed with a prayer for World Peace. People shared a heartwarming time; having a blessing from a Great Himalayan Saint.
We hope the Himalayan teachings will spread out around the Tohoku region, people's wounded minds will be healed and they can live assured and peaceful lives.