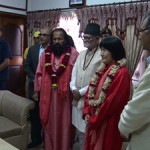 Kathmandu, Nepal, July 1st, 2015 – Siddha Master Yogmata and Pilot Baba visited Nepal where restoration work has been going on after the big earthquake in April.
In Nepal, Siddha Masters have been a pillar of spiritual support for the people and their darshan was held at various places across Nepal whereby many people gathered to receive blessings from the two masters.
They also met with Prime Minister Sushil Koirala and President Ram Baran Yadav to express their condolence and donated relief money to help assist with the recovery of their country. Their meeting with the Prime Minister was broadcasted on a national television network. (Click the below photo to watch the video.)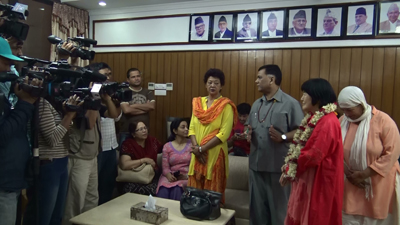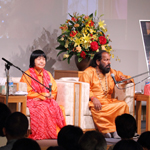 New York, USA, July 30th, 2014 Siddha Master Yogmata and Pilot Baba visit New York and Santa Monica in October and hold workshops for seekers in the US. This is a rare opportunity to receive the special blessing of the Himalayan Siddha Masters, which enables the impossible into possibility.If you start to put into practice these secret teachings, you will be able to expedite restoring your true, pure selves.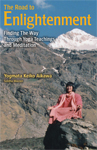 New York, USA, May 20th, 2014- Siddha Master Yogmata's first translated book "The Road to Enlightenment" is going to be published by Kodansha USA. The book offers readers Yogmata's wisdom and insights without their having to undergo the rigorous ascetic training that she went through.In this book, Yogmata shares her own experiences and the wisdom she's gained from her forty-five-year study of yoga, meditation, and healing arts. Her hope is that readers will find answers to their questions about how to live a true and happy life in the spirit of love and peace.
Click Here to Order on Amazon.com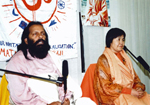 New York, USA, April 12th, 2014- Siddha Master Yogmata and Pilot Baba visit New York in June and hold workshops for seekers in the US. This is a rare opportunity to meet and receive the special blessing from Himalayan Siddha Masters.
Once you're blessed with the diksha, you are awarded with a high level of energy initiation, and your body and mind are awakened and purified.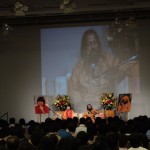 Tokyo, Japan, Oct 1st, 2013- Prior to the US tour of Pilot Baba and Yogmata, World Peace Campaign 2013 in Tokyo was held in Tokyo on September 29th. This is the 4th annual meeting since 2010 and seekers from all over Japan and from abroad enjoyed the blessing of the two Siddha masters. In the afternoon special workshops were held after two Siddha masters left the place. Although two masters were absent as a physical body, participants felt continuously the strong warm energy from the two masters during the workshops and experienced the love and compassion of the Himalayas.